Atletico Madrid vs Juventus Champions League
ons, 20 feb 2019

, Estadio Wanda Metropolitano

.

* Endelig kampdato og tidspunkt for kick-off bekreftes 5-30 dager før kampen. Hvis du er usikker på tidspunktet kan du dobbeltsjekke via klubbens offisielle hjemmeside. Endringer innad i tidsrammen ligger utenfor vår kontroll, og vi ber deg derfor ta høyde for dette når du planlegger turen din.
* Vi garanterer at dere får sitte samlet. Når du bestiller flere billetter vil dere alltid plasseres ved siden av, rett foran eller rett bak hverandre.
* Du vil alltid bli tildelt plasser blant hjemmesupporterne eller i den nøytrale sonen.
* Når du har fullført bestillingen mottar du en bekreftelse/kvittering, og e-billettene blir sendt til innboksen din umiddelbart.
* All info om henting eller levering av de originale billettene til kampen finnes på e-billetten din.
* Vi anbefaler at du leser nøye igjennom vilkårene våre for bestilling av fotballbilletter!

Under kan du lese mer om hvilke plasser og kategorier som er tilgjengelige på denne kampen.

Please note: We do NOT accept any bookings from away team fans!

CATEGORY LONGSIDE:

* Tickets are in ring 3 (Upper Longside, Lateral Oeste). The Burgundy Red area on the arena plan.

* Stadium tour included.

CATEGORY SHORTSIDE:

* Tickets are in

Short Side (

Short side is the entire goal side)

.

* Stadium tour included.

VIP CLUB ESTE

:

* Tickets are in

ring 2 (Longside), Block 228, row 11.

* Centrally located in the East Stand in the heart of the middle tier.

* Easy and direct access to lounge from ground level and parking.

* Family friendly lounge below, interactive food stations.

* New catering experience, street-market style, buffet.

*

Food & Drinks included.

* 1 parking space per 4 persons.
Please note: We do NOT accept any bookings from away team fans!
Arenainfo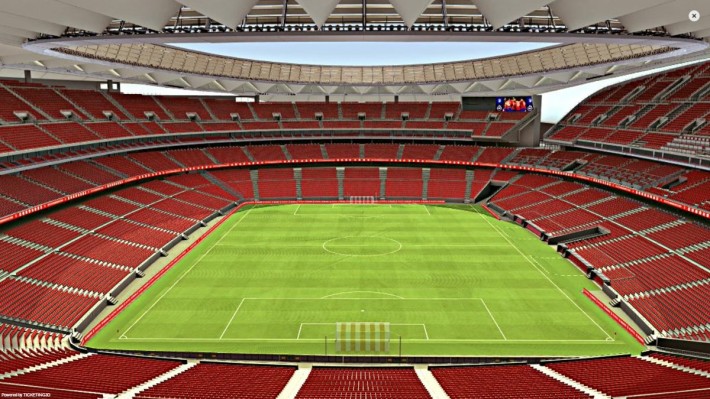 Estadio Wanda Metropolitano
Metro
Line 7 Estadio Metropolitano (Olimpico)
Tilskuere
67.000
Veibeskrivelse
Estadio Wanda Metropolitano
Adresse
Estadio Wanda Metropolitano, 28022 Madrid, Spain