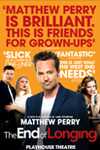 The End Of Longing
Playhouse Theatre
Pris fra 309 kr
Den internasjonalt anerkjente skuespilleren Matthew Perry (Friends, The Odd Couple) leder teamet i vedenspremieren på hans dramatikerdebut, The End Of Longing, på Playhouse Theatre, London, fra 2. februar til 14. mai 2016.
Høydepunkter:
- Sikre deg billetter til The End Of Longing
- Velg dine egen plasser
- Opplev et nytt stykke skrevet av Matthew Perry
Nyt Matthew Perrys The End Of Longing
Møt Jack, Stephanie, Joseph og Stevie: fire fortapte sjeler i begynnelsen førtiårene som søker etter mening. Etter å ha delt en elevill kveld sammen i en downtown Los Angeles bar, blir livene deres flettet sammen på en måte som tvinger dem til å konfrontere de mørkere sidene av sine relasjoner.
Dette fartsfylte, og bittersøte komiske nye stykket, er regissert av den kritikerroste og prisvinnende regissøren Lindsay Posner (Speed-the-Plow, Andre Desert Cities) - paret gjenforense etter sitt første West End-samarbeid Sexual Perversity Chicago i 2003.
The End of Longing er en skarpt skrevet og morsom mørk komedie, som får deg til å innse at skadede sjeler ikke trenger å forbli skadede..
Hvordan får jeg billettene mine?
Kort etter at bestillingen er fullført mottar du e-billetten din via e-post. Skriv den ut og ta den med på til teateret. 
The End Of Longing Reviews
"'Consistently funny and often laugh-out loud'"
The Times
---
"'Wired, raw and very funny. Superb performances'"
Whatsonstage.com
---
"'Like watching a re-write of Noel Coward's Private Lives strained through Patrick Marber's more flamboyantly explicit Closer'"
Whatsonstage.com
---
"'Matthew Perry's debut play is smart, stylist and sexy. This is just what the West End needs.'"
The Spectator
---
"'Lindsay Posner's production is as slick as a Chandler one-liner'"
Metro
---
"'Funny, sharp and intelligent'"
Gay Times
---
"'Matthew Perry's writing might not be at complete perfection, but it works. It's fresh and it presents a great new grasp that younger audience members can enjoy'"
Gay Times
---
"'Sharp wisecracks delivered with aplomb under Lindsay Posner's slick direction"
Sunday Express
---
"'Tremendously moving'"
Daily Express
---