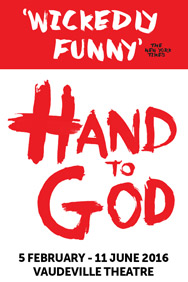 Hand To God
Vaudeville Theatre
Pris fra 276 kr
En død far, en dysfunksjonell familie, en jente som bare ønsker å hjelpe, og mobberen som alltid får viljen sin, en mann av kirken som tilbyr komfort, og en marionettdukke som er helt ute av kontroll - Han er sjokkerende, farlig og tar ingen fanger.
Høydepunkter:
- Sikre deg billetter til Hand To God
- Velg dine egne plasser
- Opplev "Sesame Street møter eksorsister"
Hand to God 
Helvete bryter ut på Vaudeville Theatre når denne hysterisk morsomme og provoserende nye komedien lander direkte fra Broadway, hvor New York Times kalte den "hysterisk morsom" og New Yorker kalte den "Sesam stasjon møter eksorsister."
Bestill billetter til den mest spennende nye forestillingen som kommer ut av Amerika i år, med Janie Dee, Neil Pearson, Harry Melling, Jemima Rooper og Kevin Mains i rollene.
En venstre hånd kan utvilsomt være en farlig ting.
Hvordan får jeg billettene mine?
Kort etter at bestillingen er fullført mottar du e-billetten din via e-post. Skriv den ut og ta den med på til teateret. 
Hand To God Reviews
"Theatre for the YouTube generation Really - freakish, silly … it's getting my thumbs up It keeps gathering in lunatic intensity until you surrender to its madcap charms"
Daily Telegraph
---
"Full of insight and laughter … socks it to the audience Puppet sex… once seen….It's never forgotten The crowd went wild"
The Times
---
"Terrific cast. Hand To God includes the most raunchy, not to mention protracted, puppet sex scene the West End has ever witnessed."
Evening Standard
---
"Amazing cast, filthy humour and a possessed puppet. What's not to love? Highly recommended."
The Sun
---
"Hand To God finds great hope in new writing… the West End has been looking for something new to love – and we might have just found it."
Gay Times
---
"The funniest and filthiest puppet glove punch-up I've ever seen Avenue Q meet Book of Mormon, with elements of The Exorcist"
WhatsOnStage.com
---