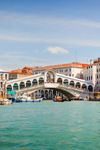 Best of Venice Tour
Pris fra 343 kr
Our Best of Venice tour is perfect for visitors with only a limited time in Venice who wants to get a true taste of the city. In just a few hours we take you to the most famous sites of the Venice, including St. Mark's Basilica and the Rialto Bridge, as well as some more quiet spots where you can get a feel for what it is to live in this floating city.
Highlights:
- Learn about the history and culture of Venice on our 2-hour walking tour
- Skip the line to St. Mark's Basilica
- Ticket to the famous terraces of St. Mark's Basilica
- Guaranteed small tour group of no more than 20 people
The Best of Venice
As you wander the streets and piazzas of central Venice, your expert, English-speaking guide will keep you entertained with stories about how Venice was built and how it became one of the world's oldest republics. Listen as your guide weaves tales about Venice's most famous residents, the parties that earned the city its name and the culture that has made it one of the world's most popular destinations.
The tour starts at one of Venice's must-see sights - the Rialto Bridge. Then we make our way through the narrow streets and over the tiny bridges as we make our way into the heart of the city. You'll visit Marco Polo's house and hear about the Venetian son who went to sea one day and came back with stories of China and a world in the East that few had ever seen. You'll encounter the lively piazzas of Campo SS Giovanni e Paolo and Campo Santa Maria Formosa, where Byzantine influences, Renaissance buildings, and modern structures tell the eclectic story of the city's development.
We'll see the Bridge of Sighs on our way to our final and most impressive stop - St. Mark's Basilica. After marveling over St. Mark's Square, we'll skip the long lines into St. Mark's Basilica. With less time waiting outside we'll have more time to admire the beautiful frescoes inside the basilica. The tour also includes a trip up to the famous terraces of St. Mark's. Rarely included on guided tours, the terraces offer beautiful views over the piazza and plenty of opportunity to take photos.

The tour is operated in English.
How do I get my tickets?
Shortly after your booking is complete your e-ticket will be sent directly to your email, just print it out and bring it on your tour.
Where does the tour begin?
The tour starts in front of the bronze statue of a man in Campo S. Bortolomio, on the San Marco side of the Rialto Bridge. Please be there 15 minutes before the tour starts.

How long does the tour last?
The tour lasts 2 hours.

Is there a dress code?
Yes, entrance into religious sites requires a strict dress code. Knees and shoulders must be covered for both men and women. City wonders and Ticmate cannot be held responsible for refused entry due to improper dress.
Are there children's tickets?
Yes, children's tickets are available for children between age 4-14. Children under age 3 are free when accompanied by a paying adult.

Important information:
- Please do not bring large bags, tripods or backpacks on this tour. They are not permitted in St. Mark's Basilica and must be checked into the luggage storage area off-site. You may miss a portion of the tour for this procedure.
- The tour ends at the Rialto Bridge.
- The tour involves a fair amount of walking, and there are a number of steep steps on the terraces of St. Mark's Basilica. Comfortable shoes are recommended.
- We regret that we are unable to accommodate guests with wheelchairs or any impairments requiring special assistance. We are also unable to accommodate strollers or baby carriages on our group tours.
- Photography is permitted throughout most of the tour; however, photography is prohibited in St. Mark's Basilica.
- Some sites visited lack shade and can be hot under direct sunlight. We recommend bringing a hat, sunscreen and a bottle of water in warm weather.