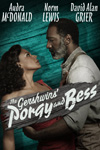 The Gershwins' Porgy and Bess
Richard Rodgers Theatre
Pris fra 1171 kr
Se The Gershwin's musikalversjon av Porgy and Bess på Broadway i New York. The Gershwin's Porgy and Bess i New York. Billetter kan kjøpes her!

Musikalen Gershwin's Porgy and Bess handler om Porgys desperate forsøk på å redde Bess fra hennes hallik og narkolanger i slummen i Charleston, South Carolina.

NB: Når du bestiller billetter til en musikal i New York vil du alltid få de beste plassene som er tilgjengelig på det tidspunktet du bestiller. Vi har ingen innflytelse på nøyaktig hvilket sete eller rad nummer, da dette utelukkende bestemmes av teateret ut ifra hvilke plasser som er tilgjengelig. Innen 36 timer etter at du har mottatt din første booking bekreftelse, mottar du en bekreftelse som viser de eksakte passnumrene! Disse kan ikke byttes eller endres da de er de beste plassene som var tilgjengelige på bestillingstidspunktet.