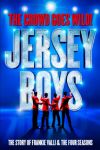 Jersey Boys - London
Prince Edward Theatre
Pris fra 820 kr
Musikalen Jersey Boys, om Frankie Valli and the Four Seasons, har nå blitt sett av over 1,5 millioner mennesker og er godt etablert som en av West Ends lengstlevende og mest populære forestillinger.
Høydepunkter:
- Sikre deg billetter til denne populære musikalen
- Velg din egne plasser
- Nyt alle de store hitsene av Frankie Valli and the Four Seasons
- Opplev en feel-good musikal
Hva handler Jersey Boys om?
Jersey Boys er en musikal om Frankie Valli and the Four Seasons, og hvordan de jobbet seg fra gatene i Newark til stjernestatus. Jersey Boys er din sjanse til å få et glimt av mennene bak musikken - mafiatilknytningen, fengselopphold, krangler og den ultimate triumfen til en av de største musikkgruppene gjennom tidene.
Jersey Boys har hits som "Sherry, '' Big Girls Don't Cry, '' Can't Take My Eyes Off of You, '' Oh, What a Night 'og mange flere.
Andre musikaler i London hvor musikken er levert av verdenskjente artister eller grupper:
Mamma Mia - The Lion King - Thriller - Live
Hvordan får jeg billettene mine?
Kort etter at bestillingen er fullført mottar du e-billetten din via e-post. Skriv den ut og ta den med til teatret. 
Hvem er denne musikalen egnet til?
Jersey Boys er anbefalt for personer som er minst 12 år, grunnet sterkt språk. Barn under 5 år har ikke adgang til teateret.
Hvor lenge varer musikalen?
Jersey Boys varer ca. 2 timer og 30 minutter, inkludert pause.
Hvem er teamet bak?
Regissert av Des McAnuff, med en bok av Marshall Brickman og Rick Elice. Musikk og tekster av Bob Crewe og The Four Seasons' egen Bob Gaudio. Musikalen har vunnet fire Tony Awards, inkludert Beste musikal, Beste hovedrolle i en musikal, Beste birolle i en musikal og Beste lysdesign i en musikal.
Jersey Boys Reviews
"Let's hear it for the Boys. I suspect, it'll be some time before London says Bye Bye Baby (Baby Goodbye) to the phenomenal Jersey Boys"
The Daily Telegraph
---
"Oh what a night of magical memories. This is an utterly wonderful show full of vitality, pace and power"
The Daily Express
---