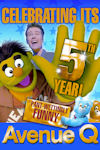 Avenue Q
Wyndham's Theatre
Kultforklarte Avenue Q er South Park og Muppet Show som musikal. Avenue Q The Musical spilles på Noel Coward Theatre i London og er en av West Ends morsomste musikaler.
Siden den først ble satt opp for et år siden, har kultforestillingen Avenue Q blitt mottatt av entusiastiske publikummere og fått stående applaus, og den er tydelig meget vanedannende siden en hærskare av fans kommer tilbake for å se den igjen og igjen.

Forestillingen finner sted i en mytisk blokk i New York som er bebodd av en meget elskverdig og underlig samling mennesker: skrullete Christmas Eve og den ulykkelige ektemannen Brian og dukkene sjuskete Nicky, hemmelighetsfulle Rod, sjelløse Princeton, forlatte Kate, pornoglade Trekkie Monster og bimboen Lucy the slut.

De banner som sjømenn, tar del i kinky dukkesamleier og formidler til og med verdifull og/eller absurd livsvisdom. Disse menneskene ville ikke passet inn på Sesam stasjon – pokker, de ville ikke en gang vært velkomne på Sesam stasjon.

Å kalle det et dukketeater yter det ikke rettferdighet, Sesam stasjon for voksne stemmer heller ikke. Det er ikke noen enkel måte å beskrive Avenue Q på, bortsett fra at det er en av de mest pelskledde, morsomste forestillingene du noen gang kommer til å se.

Men det kan trygt sies at hvis du er en voksen person med god sans for humor, så passer Avenue Q for deg!

Avenue Q inneholder scener som kanskje ikke egnet for barn under 12 år. Barn under 5 år er ikke tillatt.
Avenue Q Reviews
"Brash, vulgar, sometimes downright obscene, I loved every minute of it"
Sunday Times
---
"An outrageously funny musical for the iPod generation. Cross Sesame Street with the Muppet Show give it an X rating and slap on a Government Health Warning that too much laughter can make your sides ache and you've got Avenue Q, A MUST SEE"
Radio 2
---
Avenue Q Pressemelding
"The best musical of the decade" - Christopher Hart, Sunday Times. After a hugely successful run at the Gielgud, the eternally popular musical Avenue Q will move to the Wyndham's (almost back to where it ...
Les mer